Double Nagasaki, Pt. 1.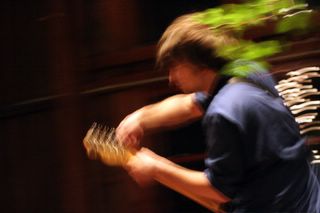 (3/01/05: photo credited to kesin at ecstatic peace)
Ben Chasny plays guitar and caterwauls under the cryptic tongue-roller Six Organs of Admittance. On last year's Blue Cathedral, he became the most recent addition to Comets on Fire, a band of fellow San Franciscans producing some of the best rock music in the world today. Chasny himself has been shooting out the floodlights since the mid-nineties, his "psych-jerk experience" Plague Lounge the breeding ground for a solo career that began around 1998. Since then he has on his own and through collaboration released over a dozen albums, each meaty and soulful and true. 4Teez n' Blunse caught up with Chasny following a genuinely phenomenal performance at Hampshire College in Amherst, MA, where he spoke at length on the subjects of live performance, collaboration, and America's burgeoning fascination with new folk and psychedelic music.

4TEEZ: GREAT SHOW MAN, THANK YOU FOR COMING.
6ORGZ: THANK YOU MAN.
4TEEZ: HOW'S COMETS ON FIRE DOING?
6ORGZ: GOOD. THEY'RE ALL ASSHOLES THOUGH.
4TEEZ: THAT'S TOO BAD. WHAT WAS THAT BOTTLE YOU HAD ON STAGE?
6ORGZ: WINE. THEY TOOK IT AWAY, THEY THOUGHT I'D KNOCK IT OVER.
4TEEZ: WOULD YOU HAVE?
6ORGZ: YEAH.
4TEEZ: DO YOU FEEL CONNECTED TO A MODERN MOVEMENT IN MUSIC, SOMETHING EXPERIMENTAL AND SPRAWLING IN STYLE?
6ORGZ: THERE ARE A LOT OF PEOPLE PLAYING NOW THAT I REALLY LOVE, AND I THINK YOU CAN FEEL IT IN THE AIR LATELY, SOMETHING BEAUTIFUL THAT EXISTS BETWEEN ARTISTS AS A COMMUNITY, WHICH REALLY IS A PLACE FOR LISTENERS TOO. ARTISTS AND LISTENERS WANT THE SAME THINGS. THERE ARE NEW RECORDS OUT NOW THAT ARE MAKING ME CRY, AND I LOVE THAT.
4TEEZ: HOW WAS THAT WINE?
6ORGZ: GOOD.